Mirė prieš Vietnamo karą protestavęs amerikiečių jėzuitas Danielis Berriganas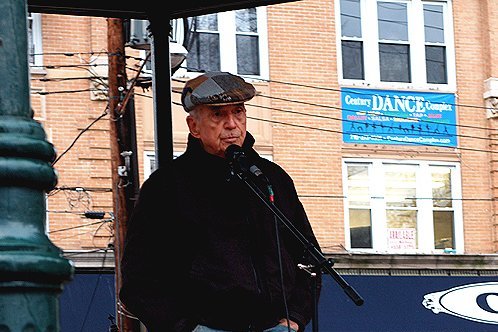 JAV jėzuitas Danielis Berriganas, rašytojas ir poetas, kurio įžūlūs protestai padėjo suformuoti amerikiečių opoziciją Vietnamo karui, mirė. Jam buvo 94 metai.
D.Berriganas mirė po "ilgos ligos", jėzuitų sveikatos priežiūros bendruomenėje "Murray-Weigel Hall" Niujorke, sakė jėzuitų JAV šiaurės rytų provincijos atstovas Michaelas Benigno.
"Jis mirė ramiai", – sakė M.Benigno.
D.Berriganas išgarsėjo, kai drauge su jaunesniuoju broliu, kunigu Philipu Berriganu, ir su septyniais kitais aktyvistais 1968 metų gegužės 17 dieną Keitonsvilyje Merilande atėjo į šaukimo komisiją ir paėmė jaunų vyrų, kurie netrukus turėjo būti išsiųsti į Vietnamą, bylas.
Grupė išsinešė tas bylas į lauką ir sudegino šiukšliadėžėse.
"Keitonsvilio devintuko" nariai buvo nuteisti pagal federalinius kaltinimus sunaikinus JAV nuosavybę ir trukdžius įgyvendinti 1967-ųjų Atrankinės tarnybos aktą. Visi 1968-ųjų lapkričio 9 dieną buvo nuteisti kalėti, nuo dvejų iki pusketvirtų metų.
Po nesėkmingos apeliacijos broliai Berriganai ir dar trys atsakovai pasitraukė į pogrindį. Philipas Berriganas pasidavė pareigūnams 1969 metų balandį, vienoje Manhatano bažnyčioje. Po keturių mėnesių FTB areštavo ir Danielį Berriganą Rod Ailande, teologo Williamo Stringfellow namuose.
Viename interviu D.Berriganas sakė, kad bėgliu tapo norėdamas atkreipti didesnį dėmesį į antikarinį judėjimą.
Patirtį teisme D.Berriganas aprašė 1970 metais, vieno veiksmo pjesėje "Keitonsvilio devintuko teismas" (The Trial of the Catonsville Nine), pagal kurią vėliau buvo pastatytas filmas.
1972-aisiais išleistas iš kalėjimo kairiosios pakraipos D.Berriganas protestavo ir toliau, net pradėjęs eiti 9-ą dešimtį metų.
2009 metais katalikiško žurnalo "America" žurnalisto paklaustas, ar dėl ko nors apgailestauja, D.Berriganas atsakė: "Galėjau greičiau padaryti tuos dalykus, kuriuos padariau, kaip Keitonsvilyje".
D.Berriganas parašė maždaug 50 knygų, tarp jų – 15 poezijos knygų, ir pelnė Lamonto poezijos premiją.
[email protected]
Naujienų portalo tv3.lt informaciją atgaminti visuomenės informavimo priemonėse bei interneto tinklalapiuose be raštiško UAB "Tele-3" sutikimo draudžiama.